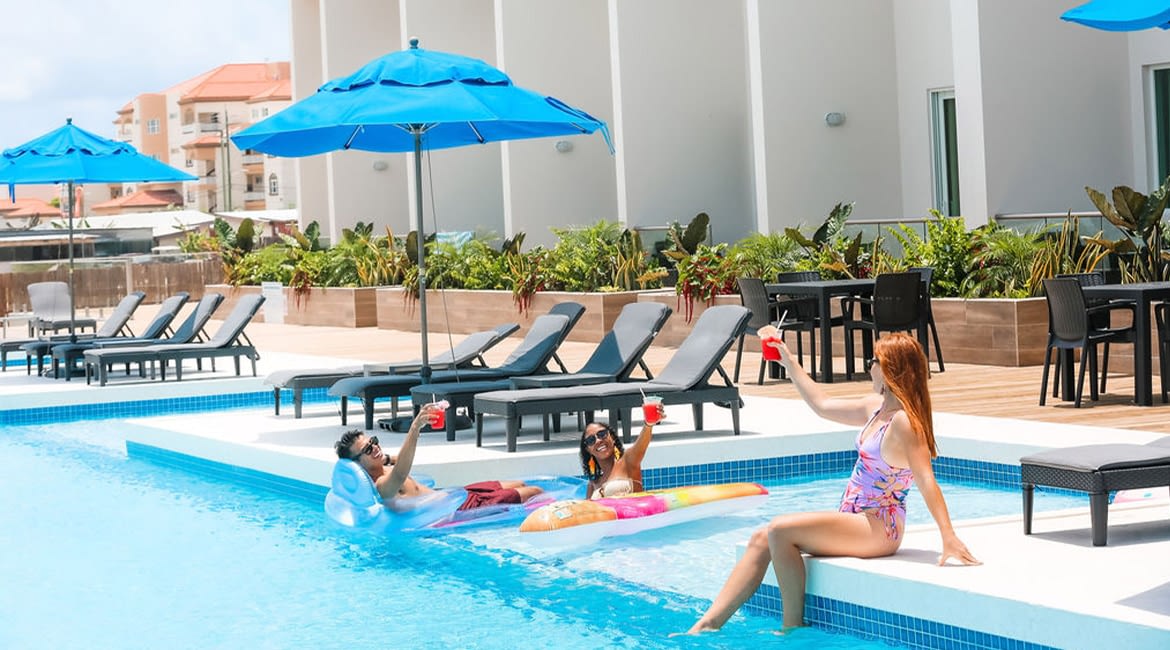 The Ultimate Summer Checklist for Your Belize Vacation
Summer in Belize is truly the best time to vacation – the warm Caribbean sun is shining high in the sky; the air is rich with good vibes, and everyone just seems to have an extra pep in their step. The good summertime vibrations never go to waste with all the great and fun summer activities that are sure to make your vacation to Belize with Sunset Caribe the ultimate experience.
What is summer in Belize without fun in the sun?! Any Belizean summer checklist, ultimate or not, must include at least one day of lazing around by the pool. The whole family can frolic poolside, soaking up the tropical sunshine and enjoying the fresh summer air.
The fun doesn't have to end at the water's edge, with plenty to do offshore. There's paddleboarding, windsurfing, jet-skiing, and of course, kayaking. Snorkeling off the coast of Belize is a definite must-add to any list. This unique adventure allows vacationers to experience a diverse underwater world, swimming amongst sharks, manatees, dolphins, and rays. For the more adventurous swimmer, diving is also an option. Diving in Belize is genuinely unBelizeable, especially a nighttime dive at Hol Chan Marine Reserve.
Our sister resort has brought back its Belize summer tournament this year – the Grand Caribe Annual Deep Sea Classic Fishing Tournament. This big event, scheduled for the weekend of July 29th-31st, brings together the best amateur and pro anglers worldwide. Even if you are not an angler, the tournament will surely still be a fun outing for the whole family. On Saturday, July 30th, you can cheer on your favorite anglers from the sidelines while enjoying the many local booths at the Belize Tourism Board-sponsored Expo. Stalls will include other hotels, tour guides, local vendors, and artisans from around the island.
Some artisans and vendors at the Expo can be found stationed at the local San Pedro Artisan Market. You can find intricate handcrafted Belizean knickknacks, jewelry, clothing, and even food. Although open all year round, the market always seems to explode during summer as the increase in visitors to the island brings out even more unique merchants.
If you are enticed by seafood, especially lobster – you're in luck as the lobster season in Belize opened in early July. You can now find tasty, mouthwatering lobster dishes everywhere around the island and at our sister resort's onsite restaurants. So, go ahead and dig into a delectable lobster dish!
The end of July has not only the Grand Caribe Fishing Tournament but also the First Annual Belize International Music and Food Festival. Scheduled for July 30th-31st, the first-of-its-kind event combines exceptional local cuisine with top-tier local and international music artists. The rhythms will never stop with local artists like J Cas, Stig Da Artist, and Supa G and international artists like Koffee, Demarco, and Patrice Roberts. The dancehall, reggae, soca, punta, and Latin beats 'wa cya dun'!
Summer is the season for Belize'n. There are tons of things to do, from tanning poolside to fishing tournaments and even music festivals. A stay with Sunset Caribe is always a guaranteed good time, but kick things up a notch this summer with our fun Belize vacations. And when booking or during your stay, inquire about the fun local events happening in and around the island.