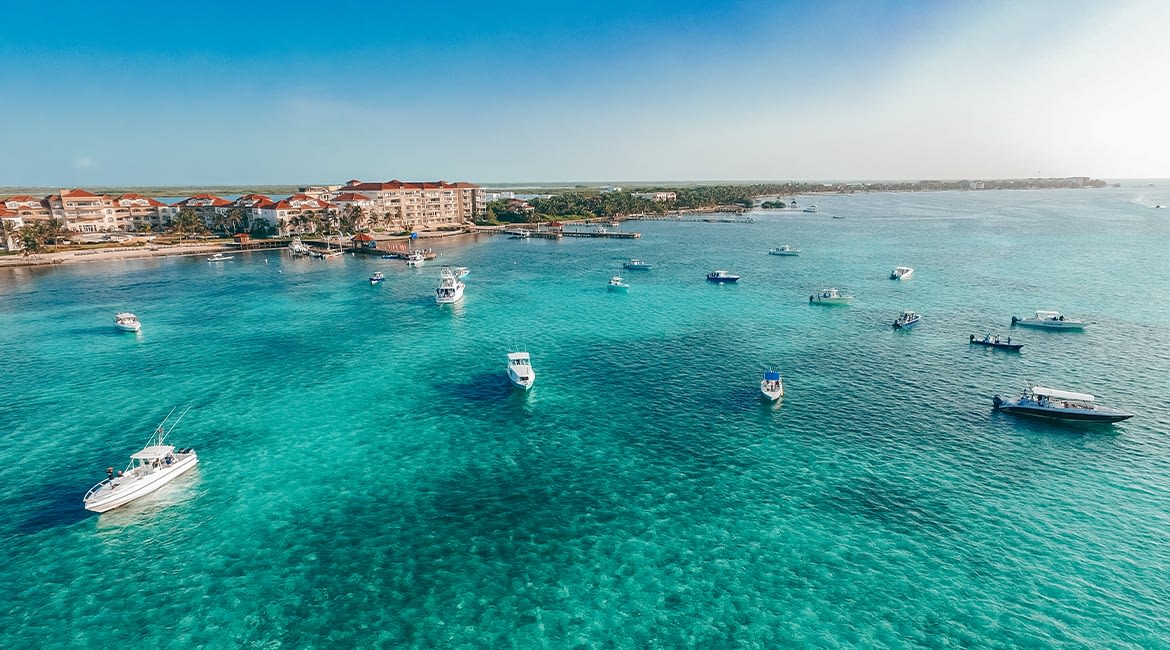 The Tournament of the Summer with Sunset Caribe and Grand Caribe
Located on the beautiful island of San Pedro, Sunset Caribe offers you access to most memorable and fun vacation while in the jewel of Belize. Whether its scuba diving with sharks, exploring ancient Mayan Cities or simply soaking up the sun on our pristine sandy beaches. The possibilities for an AWEmazing vacation are endless. This year the experience gets better as we collaborate with our sister resort, Grand Caribe, in celebration of their 6th annual Deep Sea Classic Fishing Tournament.
Each year, anglers from across the region anchor at Grand Caribe for a one-of-a-kind fishing experience. Known globally as a fisherman's paradise, our Belizean waters are native to and array of fishes raging from dorado, wahoo to tuna, marlin and sailfish.
This not only makes for an enjoyable fishing expedition, but with this year's fishing tournament, it can be an expedition that genuinely pays off. This year offering over $200,000 in cash, the biggest prize up to date! We are partnering with the Belize Tourism Board (BTB) and contributing $25,000 to start off the Calcutta.  Grand Caribe will also be donating 10% of the Calcutta towards scholarships for young tour/fishing guides, who aspire to obtain training and licenses.
First place gets a whopping $25,000.00 cash prize plus 60% of the Calcutta, and the top 3 boats will receive a signed and framed artwork by Carey Chen. Prizes are given through to fifth place as well as for heaviest dorado, heaviest wahoo, heaviest tuna, and top anglers in male, female, and junior categories—what a way to spend your vacation. You get to fish all weekend at great locations on the Caribbean Sea while also getting the chance to win incredible cash prizes. Talk about a holiday that pays for itself!
For those not fully immersed in the fishing lifestyle, you can cheer on your favorite angler from the sidelines while enjoying numerous local booths located on site for the Belize Tourism Board-sponsored Expo on July 30th. Booths will include representatives from our other neighboring hotels and tour guides, local vendors, and artisans, all offerings a glimpse of our Belizean lifestyle through delicious food and exotic artwork. There will also be local realtors available to talk about Belize's Qualified Retirement Program (QRP), just in case, like many others, you have fallen in love with Belize and wish to make it your home someday. Additionally, there will be a silent auction for a piece done by renowned artist Carey Chen, a true master at breathing marine life into paint and canvas. He will also be present covering the tournament with Nicole Spenc and Darcie Arahill (aka Darcizzle), Instagram influencers in the fishing space.
Your vacation to Belize this summer with Sunset Caribe will be a guaranteed fun time with all the fantastic adventures we have for you to choose from, including fishing. You can kick the fun up a notch with our sister island resort Grand Caribe and take part in their annual fishing tournament or hop on over and enjoy the fabulous booths at the expo. Book with us now and be sure to inquire about how you can be a part of this summer's hot ticket event!