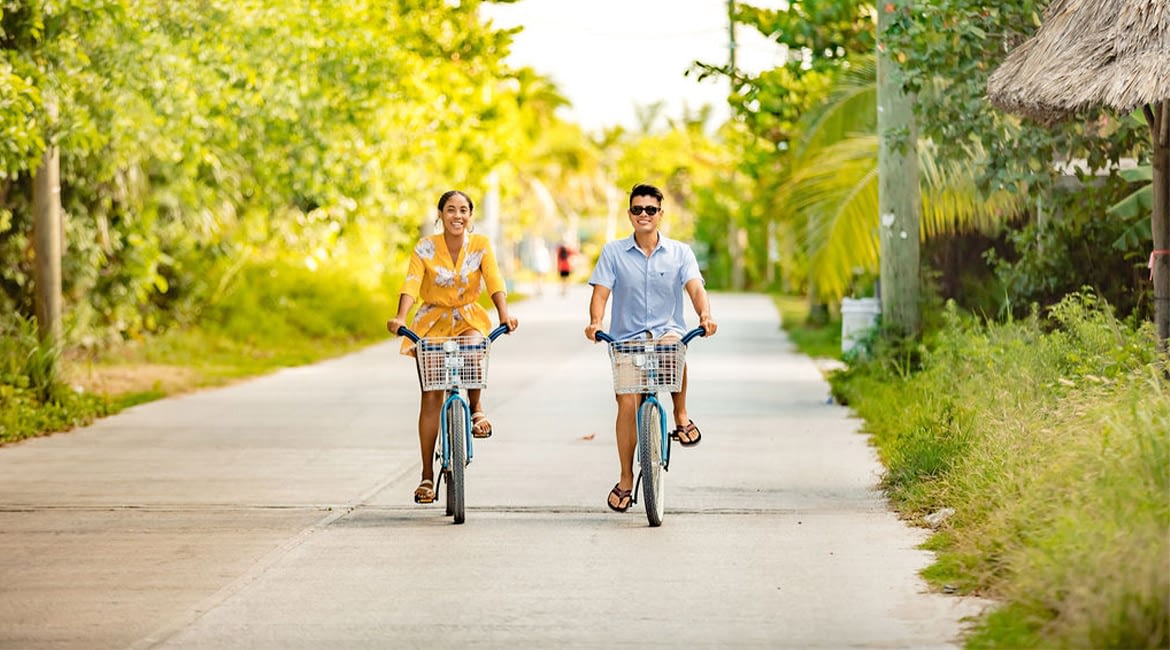 Getting to Sunset Caribe on San Pedro Ambergris Caye
Belize unquestionably rates high on the list of top vacation destinations for a holiday jam-packed with fun and thrilling activities. This tropical gem is nestled near the tip of the Yucatan Peninsula and just south of Miami. The lush rainforests in the west and the crystal-clear blue waters of the Caribbean Sea in the east create an excellent combination. Belize boasts activities for every type of traveler, from ziplining over the treetops to snorkeling along the world's second-largest barrier reef. Sunset Caribe aims to make planning your next Belize trip as simple as counting to three. Our great accommodations and vast tour selection take the hassle out of planning a really unique and enjoyable vacation. When everything is booked, even getting to us is simple.
Sunset Caribe is located a few miles off the coast of Belize City on the popular Belize island of San Pedro, Ambergris Caye. There are two ways to get to Ambergris Caye: by land and by sea. All international flights into Belize land at the Philip Goldson International Airport, from where you can catch a connecting flight to San Pedro via Tropic Air or Maya Island Air. These flights are around 15 minutes long and can be arranged via us using our concierge services. Send us your itinerary, and we'll handle the rest, ensuring that a representative greets you and escorts you to your connecting flight. If you can't wait for the adventure to begin, our partners at Astrum Helicopters can help. You can go directly to Sunset Caribe with Astrum or take a spectacular tour of the barrier reef or Blue Hole before getting on the island for check-in.
The only other method to get to Ambergris Caye is by sea, which requires you to travel to Belize City, the country's main hub. If you arrive at the International Airport, you can take a taxi, shuttle, or public transit to Belize City. It is crucial to remember that on Sundays and holidays, public transportation might be packed and infrequent. San Pedro is about a 90-minute boat ride from Belize City through San Pedro Belize Express Water Taxi or Ocean Ferry Belize Water Taxi. Although the journey is longer than a local flight, you will be immersed in Belizean beauty and culture right away. Throughout your journey to the island, you will be surrounded not just by breathtaking ocean views, but also by friendly locals. If you happen to be in Chetumal, Mexico, you can also take a water taxi to San Pedro Ambergris Caye. Once on the island, local taxis can take you to Sunset Caribe, which is located a short distance north of the island.
How do you get back to the mainland from Ambergris Caye? Returning is just as simple; simply doing the opposite works. Sunset Caribe can arrange your Tropic Air, Maya Island Air, or Astrum Helicopters flights from the island. Daily boats to Belize City are also available, as is public transportation to the airport.
So, take the guesswork out of your next vacation and book with Sunset Caribe. We don't just make holiday planning a breeze; we also make getting to and from our resort just as easy.