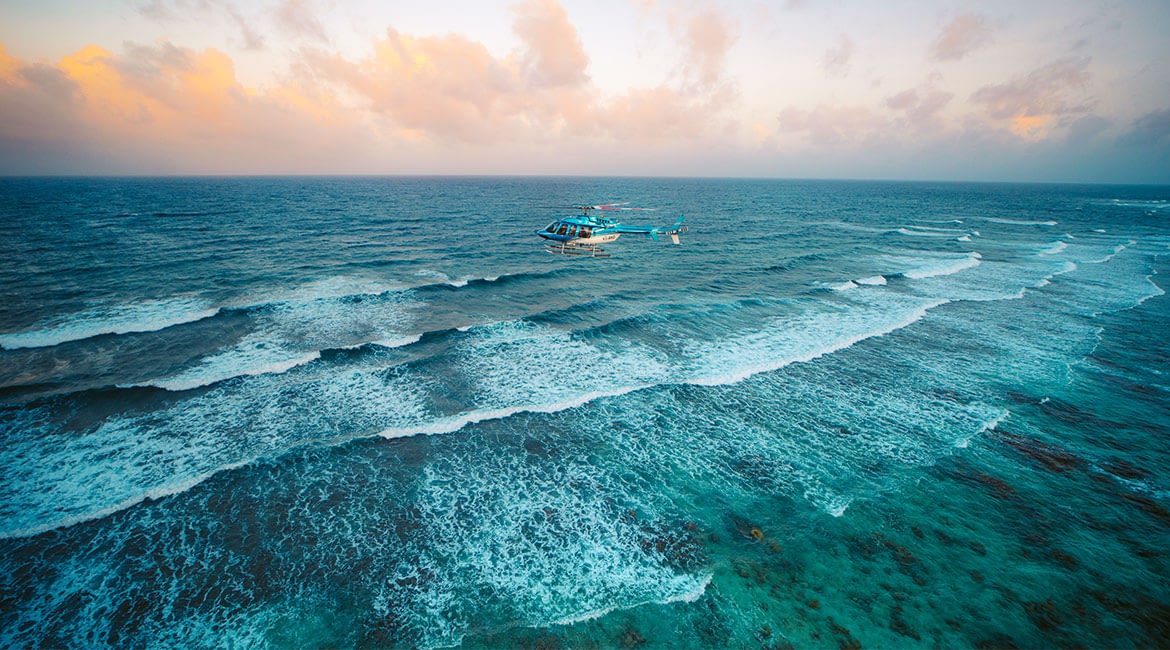 Explore Belize with Sunset Caribe and Astrum Helicopter Tours
Belize is theming culture, cuisine, and some of the most exotic natural wonders making it the perfect travel destination long hidden in Central America and the Caribbean. Once referred to by the moniker as 'Mother Nature's Best Kept Secret,' it seems the secret is out and has been for quite some time now, as Belize has consistently ranked one of the top destinations to visit. Belize is a relatively small country tucked away in Northern Central America with a mere 400,000 inhabitants. Despite its seemingly unimpressive size and population, it is jampacked and brimming with everything needed to turn your stay into an exciting adventure. Its location gives Belize a unique blend of Central American and Caribbean flavors noticeable in everything, from our food and music to the languages we speak and even our captivating landscapes.
At Sunset Caribe, we capitalize on this extraordinariness. Our goal is to provide visitors with exciting and unique Belize adventures that allow everyone to enjoy the many wonders and experiences Belize has to offer during their stay with us.
Our Belize adventure tours are specially curated to cater to the needs of every type of adventurer. With Sunset Caribe, water-themed adventures are right around the corner. You can cast off into the horizon on our Catamaran and Sailing Tour, experiencing the perfect combination of the summery rays of the tropical sun mixed with the gentle rocking waves of the Caribbean Sea and zesty ocean air. If you prefer to stay a little closer to the island of San Pedro, perhaps a parasailing excursion might interest you. Our aquatic tours also provide the option to frolic below the splashing waves through snorkeling or scuba diving. Our snorkeling and diving tours allow you to explore marine life habitats at locations with outstanding attractions found nowhere else in the world, like the Hol Chan Marine Reserve and Halfmoon Caye.
Perhaps the most unique Belize tours offered by Sunset Caribe are the Astrum Helicopter Tours. These Helicopter Tours take you on a whirlwind thrill, flying you high in the sky for a bird's eye view of Belize's spectacular landscapes. With Astrum Helicopter tours, you get to experience Belize in a way very few ever do. Soar high above the waves of the Caribbean Sea, taking in the large, remote, mangrove-littered islands and aquatic life as you head to the infamous Great Blue Hole, the world's 2nd largest Barrier Reef, and other top sight worthy atolls across Belize.
You can uncover awe-inspiring panoramic views of other major Belizean attractions like Mountain Pine Ridge, the Thousand Foot Falls, the ancient Maya Ruins of Altun Ha, Lamanai, and Xunatunich paired with relaxing horseback rides. Astrum offers not only sightseeing tours but also a wide array of exciting adventure tours that take you tubing through underground caves, zipping over jungle canopies, trekking through the rainforest, and of course, diving some of the top sites in Belize.
If you haven't figured it out yet, Belize is an excellent adventure vacation destination with a slew of exciting and unique experiences just waiting to be explored. Your Belize vacation with us can be more than a land or sea adventure – our Astrum Helicopter Tours is indeed the definition of one-of-a-kind. Book your vacation with us now, and be sure to ask about the different Astrum Helicopter tours available. Also, check out our exclusive adventure packages that can make your vacation planning a breeze.