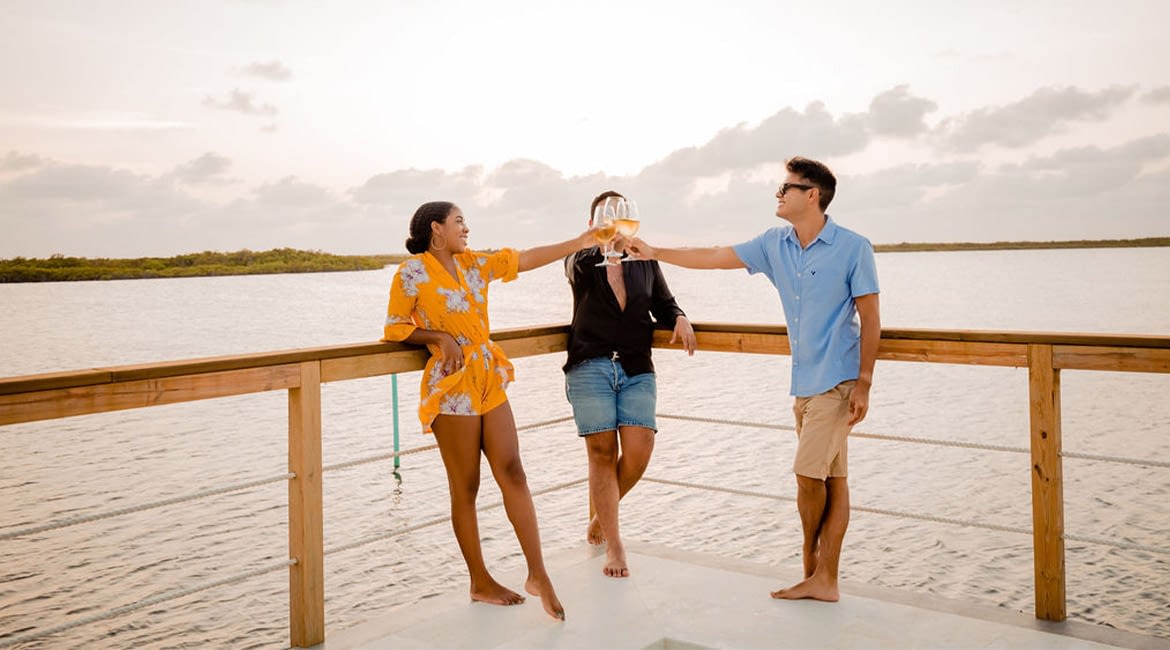 Escape the Winter and Come to Belize for the Holidays
While December is often a time to gather with those you care about, there are no rules that require you to stay home to do so! Why spend the Christmas holidays cooped up inside, trying to keep warm, when you can travel to Belize in December, where the average temperature ranges from 71°F to a high of 80°F? Who wouldn't prefer lounging poolside, getting a Christmas tan over trying to stay warm in bulky clothing? Sunset Caribe provides you with the dream Christmas vacation you deserve, with the best amenities and all-inclusive packages for your memorable island getaway while visiting Belize in December.
Although spending the holidays away from home may differ from the traditional Christmas you are used to, the tiny island of San Pedro, Ambergris Caye, is sure to make you feel right at home with its traditional activities and friendly locals. The island celebrations begin with the Christmas tree lighting in Central Park, an evening filled with music, dance, and entertainment. The Love FM Christmas parade, local craft shows at the Truck Stop, and the San Pedro Christmas Eve boat parade are just a few of the island events you won't want to miss as the holidays approach. So, when you arrive at Sunset Caribe, be sure to inquire about our golf cart rental so you can participate in the events, and while in town, you can admire the beautifully decorated houses and shops. You may even see a few fully decorated coconut trees on your drive around the island.
Your December in Belize will be an unforgettable experience, and if adventure is on your bucket list, this holiday season is the ideal time to cross it off! Experience some of the country's best snorkeling, deep-sea fishing, and scuba diving during your Belize winter vacation. Shark Ray Alley, Bacalar Chico Marine Reserve, and the Great Blue Hole are just a few of the unique places you'll visit on our tours. Head to the beach for a relaxing BBQ, parasail around the island, go inland to zip line in the jungle, cave tube through hidden caves, and explore Belize's Maya Ruins, or see things from a different perspective with our helicopter tours.
No Christmas is complete without food, and if you haven't heard, Belize is well-known for its culinary diversity, particularly during the holidays. For the best Belizean fusion cuisine, visit Rain Restaurant. Escape the cold winter days and come celebrate the Christmas holidays in Belize this December by booking your stay with us before it's too late!