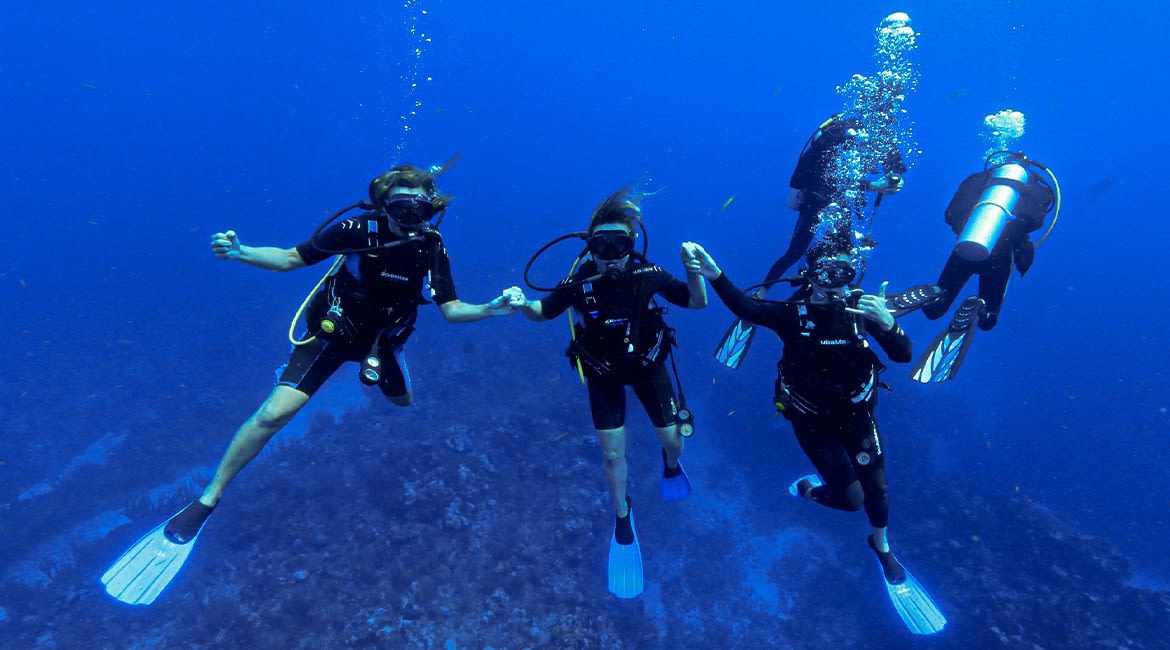 Dive into Some Vitamin Sea
There are tons of things to see and do in Belize, and while staying with us in Ambergris Caye, you can explore the best Belize has to offer both on land and underwater. With our Belize dive package at Sunset Caribe, you can break through the waves and surround yourself in a blue underworld filled with wonders that can only be experienced by peaking below the salty waves.
Our Belize diving package ranges from 4 to 7 nights and includes a variety of the best Belize dive sites, one being the Hol Chan Marine Reserve. Hol Chan, meaning "Little Channel" in Mayan, is located near Ambergris Caye and has the distinction of being Belize's first marine park. Boasting an area of roughly 11 square miles, there is enough to see to keep you exploring for hours, from fishes to corals to sea mammals. The Hol Chan Cut provides shallow areas allowing you to swim with large schools of jacks, groupers, snappers, and barracuda while accommodating dives beyond 100 feet. The seagrass beds and mangroves zones deliver a different ecosystem for you to discover. There is the possibility of swimming alongside giant stingrays, schools of lizardfish darting to the surface, and maybe even a manatee or two. The crowning jewel of this part of the Ambergris Caye scuba diving package, though, is the option to enjoy the infamous Shark Ray Alley, which ranks as one of the best diving sites not only in Belize but in the entire Caribbean. Here you can submerge yourself into a unique adventure, frolicking beneath the waves with gentle nurse sharks and docile stingrays. If you genuinely are venturing on the more daring side of life, be sure to inquire about our breathtaking and awe-inspiring night diving at Hol Chan.
The deep-diving fun never stops with a Belize dive package from Sunset Caribe, as the next remarkable spot to explore is probably one of the best you will ever experience, in this hemisphere at least. The Belize Barrier Reef is the second largest barrier reef in the world, offering up a vast array of underwater ecosystems to discover. Waiting for you just below the billowing waves are mounds of brightly colored corals, home to animals like the clownfish, parrotfish, eels, crabs, angelfish, and seahorses. Nurse sharks, eagle rays, and turtles often make an appearance too. If you time your dive package just right, you might be one of the lucky few to dive with the largest fish species in the world, the whale shark. The world-famous Great Blue Hole is also an excellent dive site within the reef system. This giant sinkhole in the ocean is often a bucket list visit for many, delivering an exceptional and rare scuba diving adventure and experience.
There is very little you need to worry about when it comes to our Belize dive package as it includes meals, accommodations, domestic flights, park fees, gear, and even welcome drinks. The less you have to worry about on your Belize scuba diving trip, the more you can focus on getting the most out of your time venturing under the deep blue sea. So, what are you waiting for? Dive into some vitamin sea at our Belize scuba diving resort and book your next vacation with Sunset Caribe!