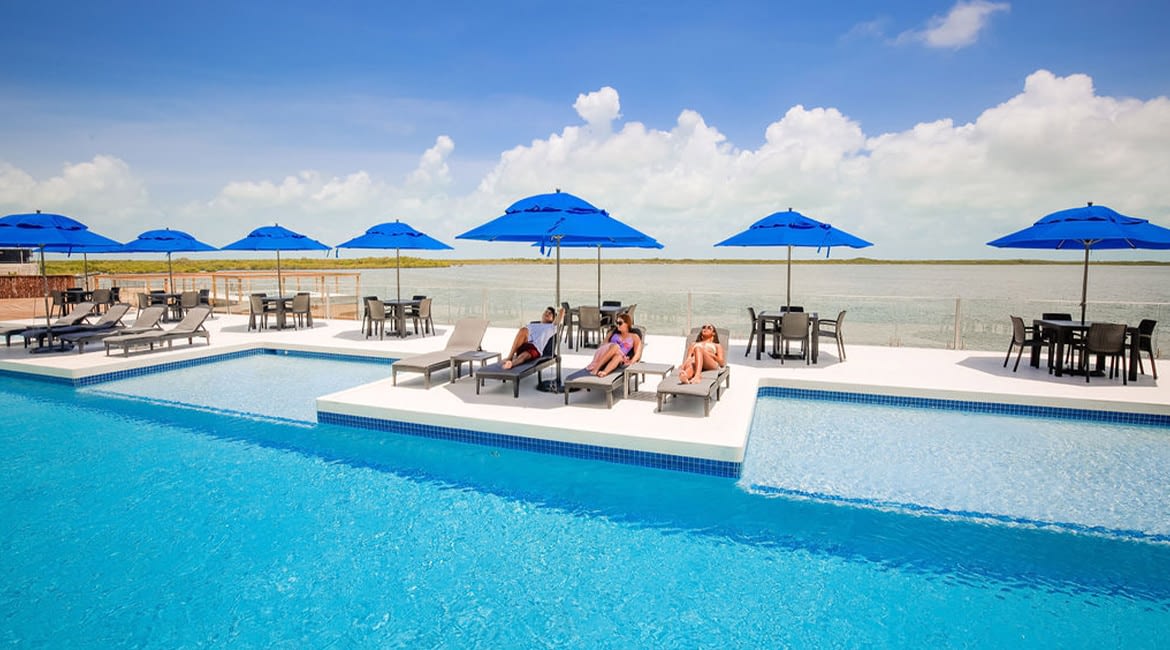 Destination Dreams Become Reality with Our Belize Vacation Packages
We are so glad you chose San Pedro, Belize as your final destination and Sunset Caribe as your vacation home. Let us help you plan travel packages to Belize and execute your dream, destination-vacation, as you experience your best life moments while staying with us. We offer a variety of thoughtfully tailored Belize Island vacation packages that cater to all our guests and their needs.
Our 4-night Belize island vacation packages range from perfectly peaceful pampering, wild rides through lush tropical jungles, to skimming the blue crested waves of the Caribbean Sea. From the most friendly and knowledgeable tour guides, the most competent masseuse, to the most skilled team of drivers and divers; are all ready to take you on an unforgettable journey. By choosing one of our many vacation packages to Belize, our on-site concierge will ensure that all arrangements are taken care of for you from the moment you disembark in Belize. Included in all our trips to San Pedro, Belize and tour packages are round trip municipal flights, resort shuttle pick-up, accommodations, and a signature welcome drink ready for your arrival at Sunset Caribe.
Which Belize Vacation Package is right for you?
Rest and Relaxation Package
If you are looking to reset, restore and reenergize, then the Rest and Relaxation vacation package is for you. Take time to just be present in the moment as you receive a 90-minute Swedish massage, a body treatment, manicure, and pedicure, all complimented with wine and a continental breakfast.

The Diver Package
Sea lovers can enjoy our Diver Package or Fisherman vacation package deals to Belize. With the Diver Package, you and a friend can strap on tanks and traverse the breathtaking underwater world for two days. You will also get the rare opportunity of diving into the Blue Hole, an oceanic wonder of Belize. Come and delve into our blue waters as you explore the Blue Hole and our great barrier reef.
The Fisherman Package
However, if fishing is more of an idyllic setting for you to relax and unwind, then go ahead and choose the Fisherman vacation package. Our expert experienced local fishermen will take you out two half-days beyond the confines of the Belizean Barrier Reef to participate in some of the best deep-sea fishing available in Central America. With this package, all your meals will be included.
The Romantic Getaway
Couples who want to get away and reconnect can select the Romantic Getaway package. Explore your new neighborhood on a whimsical golf cart provided by us at Sunset Caribe. Appreciate the colors flung across the sky by the setting sun as you sail on a catamaran cutting through the Caribbean waves. Relieve the tension by enjoying a couples massage and cap it all off with a candlelit dinner on the beach.
The Adventurer Package
For the thrill-seeker in you, we recommend our Adventure Package. Get your adrenaline going by swimming with sharks at the Hol Chan Marine Reserve! Get your heart rate pumping by hiking through the dense foliage of our forest, and then go cave-tubing in the cool, clear river waters. Zip line over the green goddess of Belize, our Rainforest then calm it all down by sailing on a sunset cruise.
The Family Adventurer Package
Belize is the ultimate destination for family vacations and here at Sunset Caribe families are certainly welcomed. Our Family Adventure Package caters to four persons, however if your family is bigger, we would be happy to accommodate them. Wake up to a continental breakfast and then tour our beautiful Island of San Pedro by golf cart. Go fishing as a family and later eat the catch at your beach barbeque. Have the kids learn as they explore the ancient Maya world and come face to face with all the local wildlife at the Best Little Zoo in the world!
Planning a destination vacation can be hard, but at Sunset Caribe it doesn't have to be. Let us do the work for you and let your destination and dreams collide to create one of your best life moments. Contact us today and let us help you find the best package for your Belize vacation.