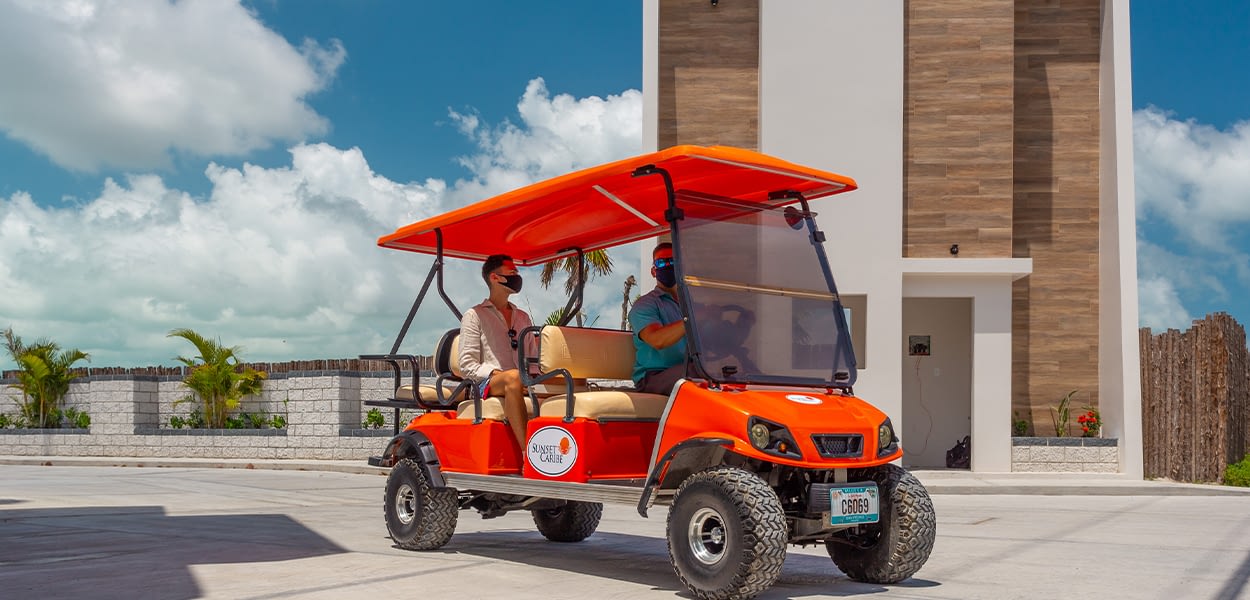 Hop on a golf cart to explore Ambergris Caye, the island's main form of transportation. Rent and park your cart right outside the front desk of Sunset Caribe and have the freedom to explore the island whenever you feel like it. For a small island there is no shortage of things to do in the evening; restaurants and cocktail lounges offer special nights; many offer great live music, fine dining by the sea and of course the famous 'chicken drop' on Thursdays. Our friendly reservations or tours staff can provide you with information on what to do, what to see and when it's happening. Contact the tours desk today about our San Pedro, Belize adventure golf cart rentals.
Benefits of booking with us:
• Quality of Golf Cart with Mud Guards, windshield, fold down cargo seat, LED Headlights
• Readily available through onsite tours/concierge office
• One FULL tank of fuel included
• Road side assistance at any hour
• Free access to secured resort parking area
The Spa and Salon at Grand Caribe


Relax your body, soothe your mind and balance your spirit at our full-service Spa and Salon at Grand Caribe. From a Swedish Massage to a Ginger Citrus Scrub, our spa has it all. You'll find a unique sense of tranquility with a selection of exclusive services.
Aesthetic Medical Treatments by Dr. Ruth Gough
Caribeville is partnered with 'Glow With Us' to provide non-invasive aesthetic medical treatments to its guests. Since 2016, Glow With Us has been providing FDA approved aesthetic services in Belize with a staff of professionals dedicated to outstanding results, patient safety, and patient care. Glow With Us strives to help their patients achieve a natural look to feel their absolute best. They LOVE what they do and invite you to visit their facility in Belize City.
Sundowners Bar – Coming Soon
It is 5pm somewhere and time to take a walk out over the water. Just a few steps, at the end of the pier will be Sundowners, an open air over the water retreat.  Watch stunning unobstructed sunsets as you enjoy a cocktail or two in our covered palapa.   Relax in one of the over the water hammock beds, and watch as the sun meets the sea and dusk settles in.
Enjoy the only rooftop restaurant on the island providing amazing panoramic views of San Pedro, the sea and the sunset, at Grand Caribe. Select from our menu featuring an array of imported meats, local seafood and pastas.
Join us for Asian influenced global cuisine with an emphasis on seafood and steaks from our esteemed chef.  Try out our sushi nights every Wednesday, Friday, and Saturdays!
Beach Basket Grocery Store
In need of some eggs? Head across the street to our onsite convenience store, stocked with everything you need to make your own meals or just have a yummy snack. We carry high quality meats, groceries, produce, snacks, liquor, wine, beer, and of course ice cream! Also offering freshly baked pizzas delivered to your room or available for pick-up at the store.
Located on site, the San Pedro Urgent Care Poly Clinic offers a variety of medical services, including covid testing for travel.